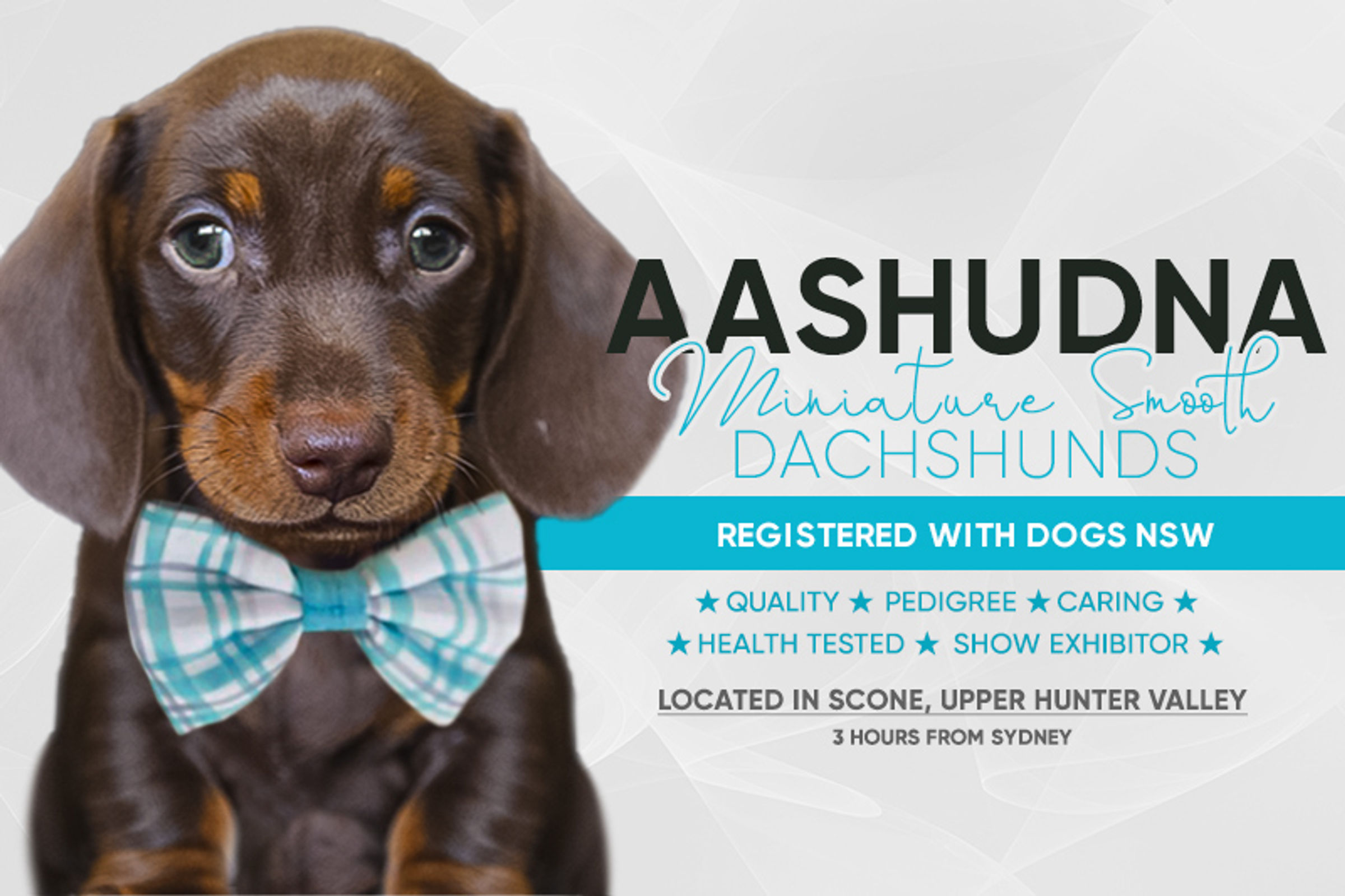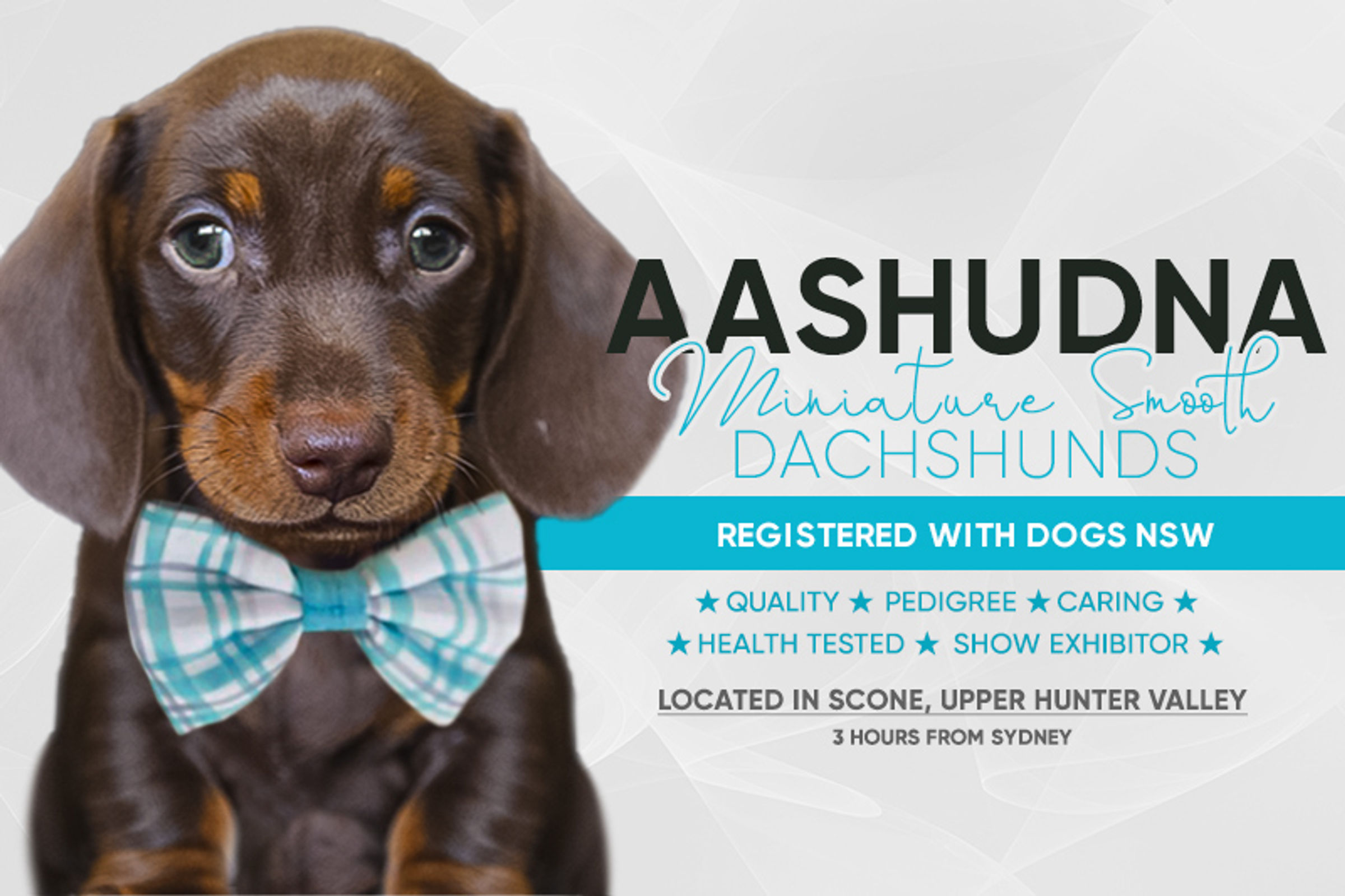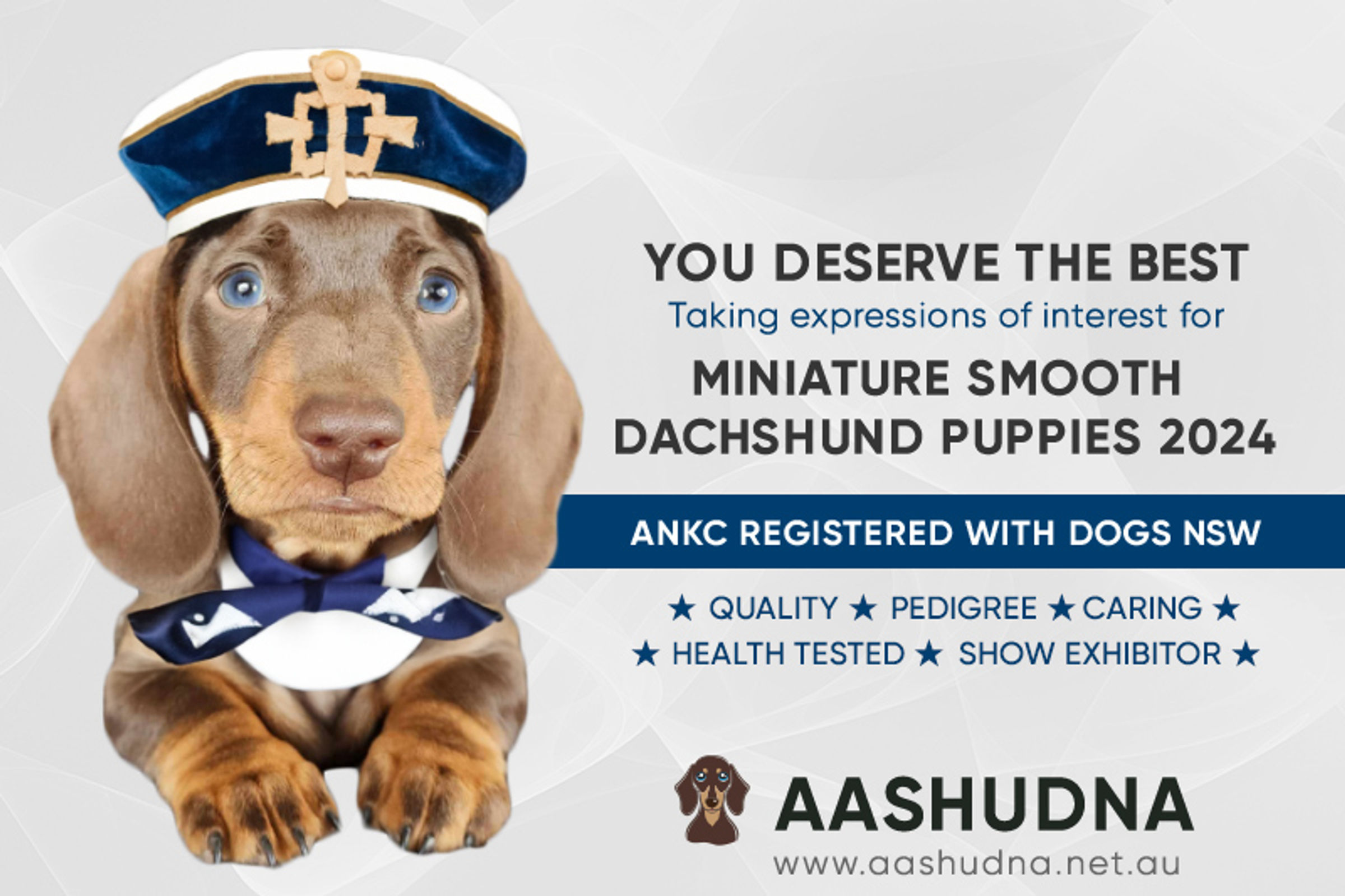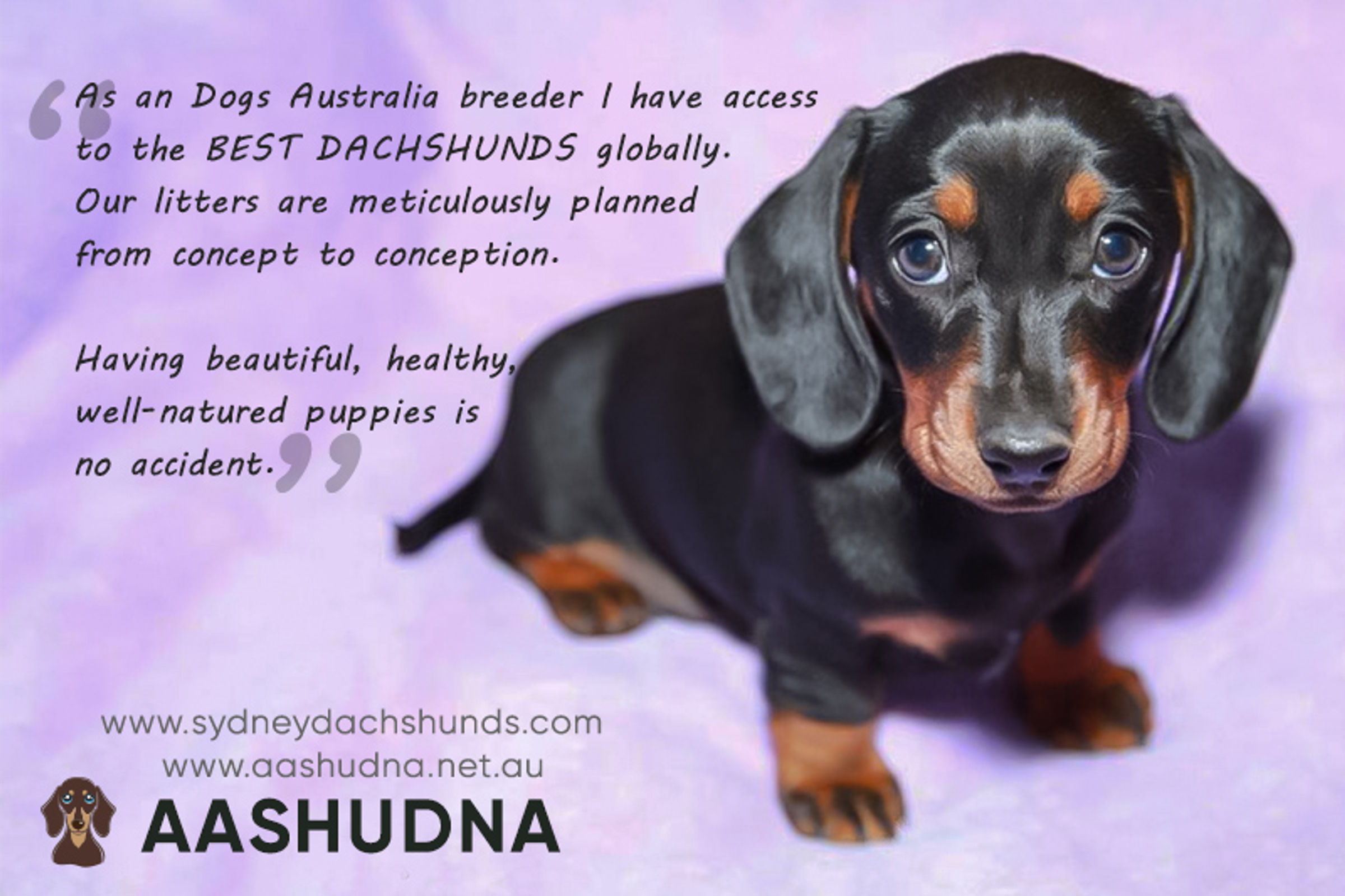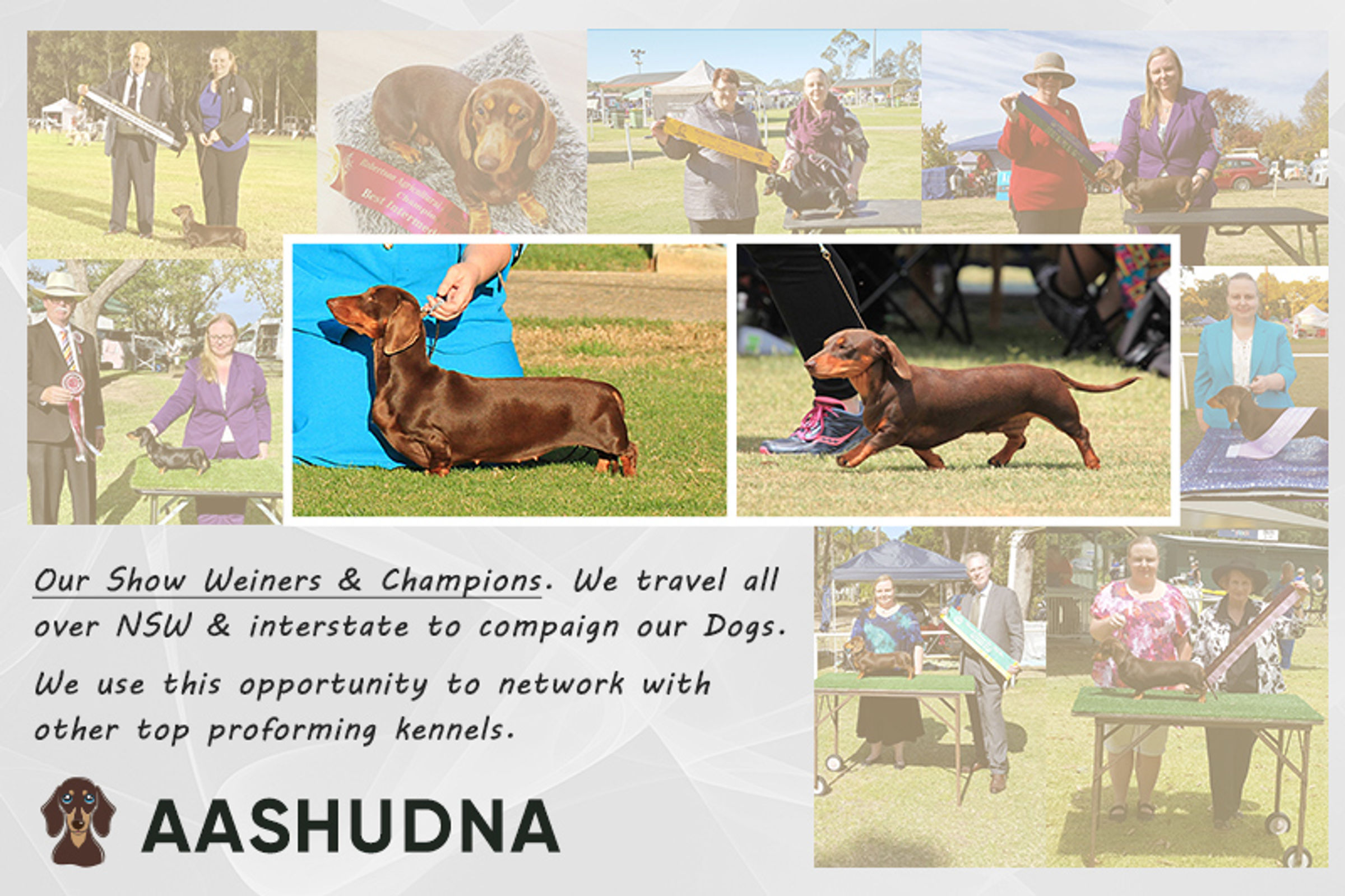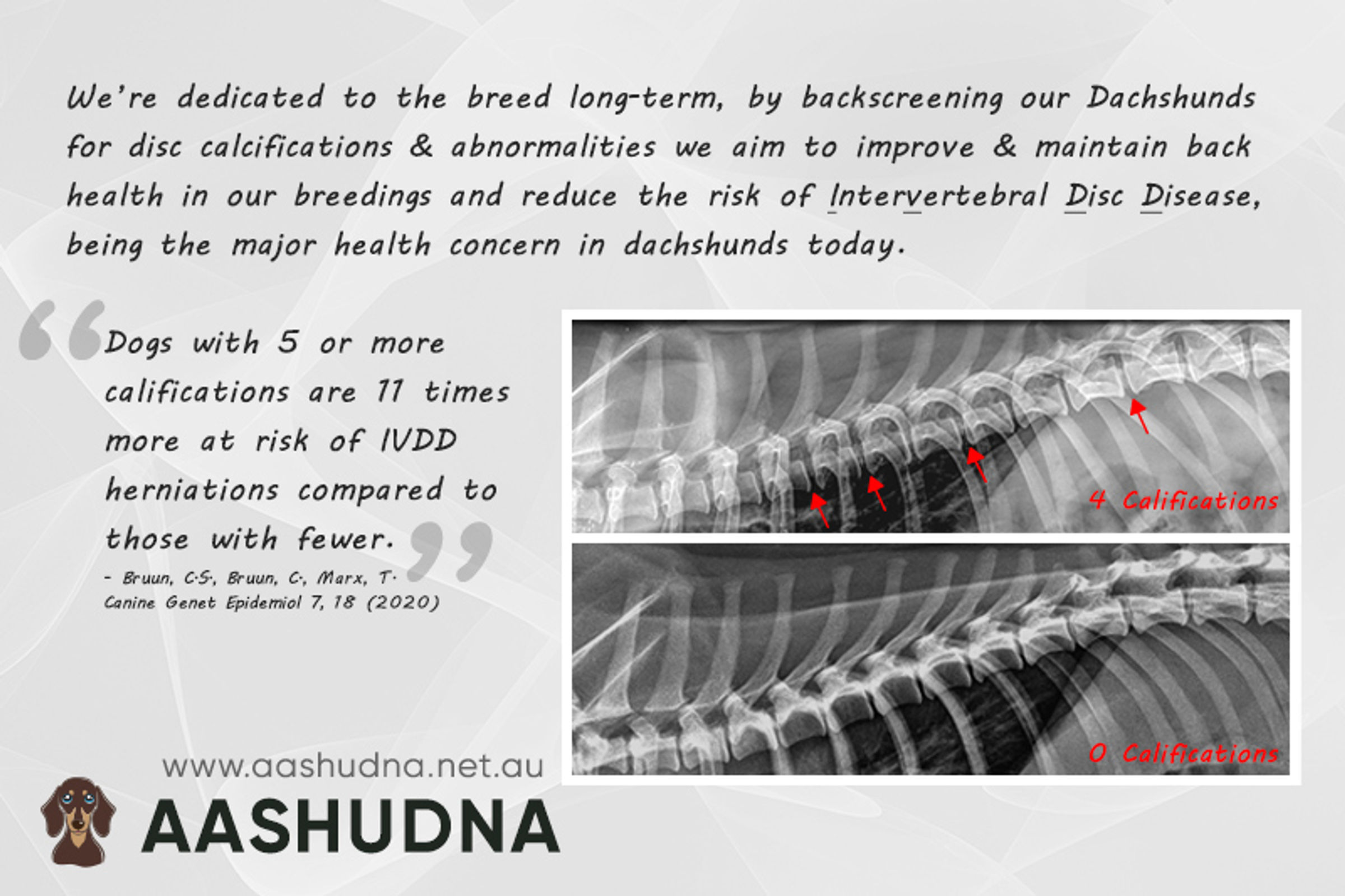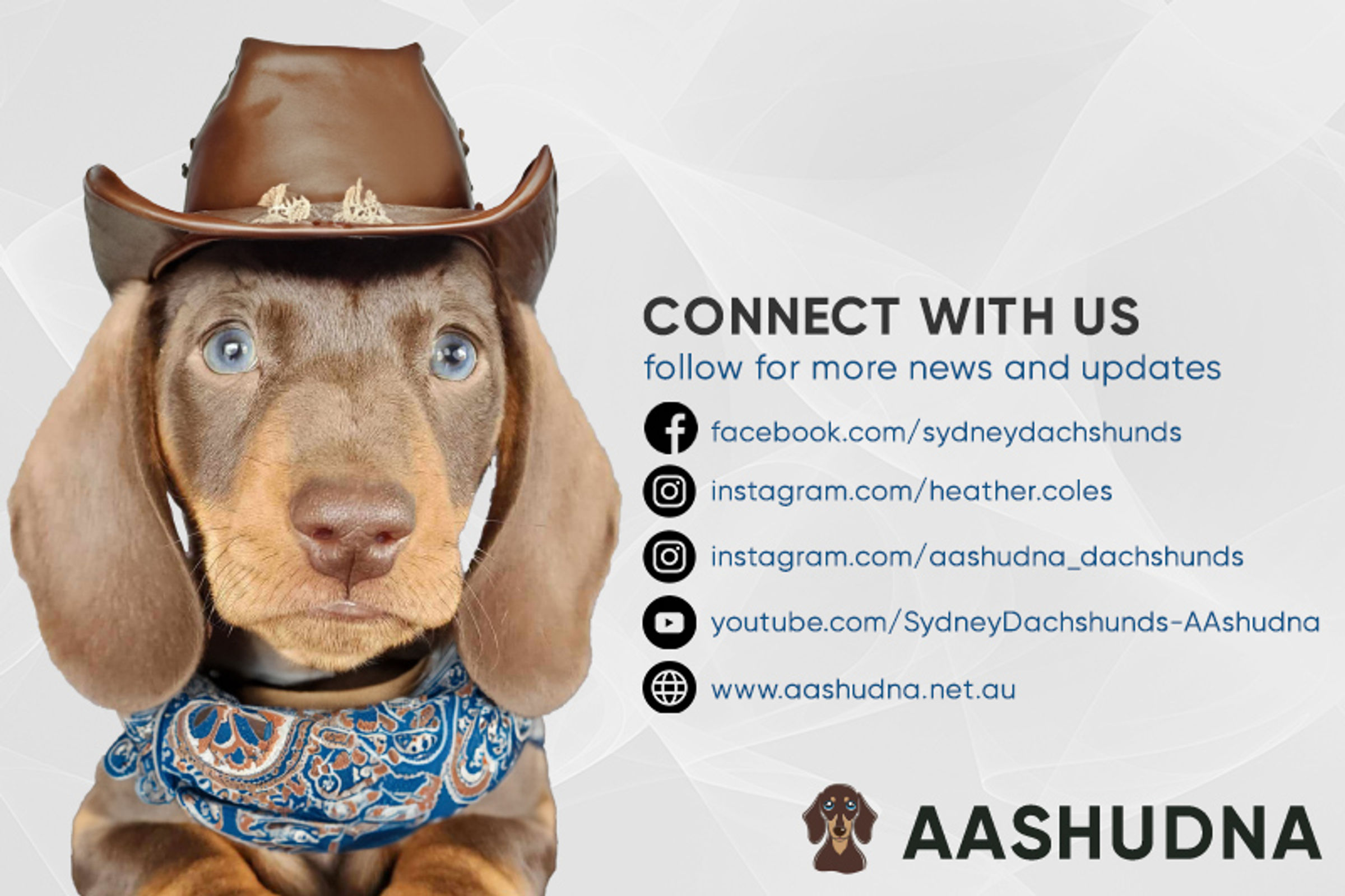 Aashudna Dachshunds (Registered ANKC ​/​ Dogs Aust. Breeder)
Upper Hunter Shire, NSW
Aashudna Dachshunds (Registered ANKC / Dogs Aust. Breeder) accept safe and traceable payments. What's this?
Hi, I'm Heather C.
ANKC Registered Breeder of miniature smooth dachshunds with a focus on chocolate and tan for over 13 years. We show and campaign our dachshunds, we are also active committee members of the Dachshund Club of NSW. We exceed the recommended health testing with our Mini Dachshunds which are DNA tested, IVD back scored,…
Vet Approved Criteria
Last checked on 30 Mar 21
Every breeder on RightPaw has agreed to our vet-approved RightPaw Code of Ethics, and passed an interview from one of our team.
Newborn & Planned Litters
Romeo x Edweina - Febuary Litter 2024
Planned Jan '24
Ready around Apr
Logan x Jade - May Litter 2024
Planned Apr '24
Ready around Jul
Romeo x Faith - June Litter 2024
Planned May '24
Ready around Aug
Our Breeding Practices
Behaviour and socialisation
Aashudna puppies born and raised inside the home from birth we commence ENS protocol. We make a point of making loud sounds and vacuuming daily around the pups. They are introduced to different textures, surfaces, scents, ramps, toys, dogs, people objects and elements of toilet training are introduced. Aashudna…
Health
At Aashudna we acknowledge the most important aspect of breeding is to breed healthy, sound puppies with excellent temperaments. That's why we back screen, complete all the relevant testing on our breeding dogs, our health results can be publicly viewed on the National Dachshunds Club's health database.
Home environment
Aashudna puppies are whelped, and raised inside the family home. The Mother (Dam) has free access to puppies at all time. Around 6 weeks, puppies are moved to our common area where they are provided more room, and toilet training commences on synthetic grass. They are slowly introduced to other dachshunds in the yard…
Included with our puppies
Dogs Australia state body 'Limited' registration pedigree papers (which reflects the fact our pups are sold with no breeding rights), transferred into your name. Up to date worming, first vaccination, microchipped and 6-week-old health report. Soft create carrier for the ride home, toys scented by mother and litter…
Health Tests
Aashudna Dachshunds (Registered ANKC / Dogs Aust. Breeder) conducts 2 out of 2 core health tests which RightPaw believe are most important to conduct for the Dachshund (Miniature).
PRA
Genetic Test
Progressive Retinal Atrophy (PRA) in dogs is a type of genetic eye disease causing deterioration…
Patellar Luxation
Physical Test
Dogs affected by patellar luxation have loose kneecaps that may pop in and out of the knee joint,…
Aashudna Dachshunds (Registered ANKC / Dogs Aust. Breeder) conducts 8 additional tests available for the Dachshund (Miniature).
Physical Test

This is a type of hypothyroidism which can occur in any breed and can be caused by many different things. It is more common in some breeds compared to others, so in these breeds it is recommended that breeding dogs have a blood test to show they have normal thyroid levels at the time of breeding.

Physical Test

An eye certificate means the breeder has had their breeding dogs examined by a veterinary ophthalmologist, to confirm they are not affected by any eye conditions which may be passed down genetically to their puppies. If relevant for the breed, it also includes running DNA tests to confirm the dog is not a genetic carrier of hereditary eye diseases, such as Progressive Retinal Atrophy (PRA). It includes breeders who have participated in the Australian Canine Eye Scheme (ACES).

Physical Test

A heart certificate indicates that a breeding dog has been screened for heart disease such as DCM or MMVD. Auscultation alone is only accepted as a screening method if performed by a veterinary cardiologist or a GP vet certifying an OFA Basic Cardiac Screen. Echocardiography is an accepted screening method via GP or cardiologist.

Genetic Test

Mucopolysaccharidosis is a genetic lysosomal storage disease that can cause various problems including stunted growth and bone deformities. There are a few different variants of this disease that have been identified in different breeds. For many breeds there are DNA tests available to identify if a breeding dog is carrying the condition.

Genetic Test

Neuronal Ceroid Lipofuscinosis (NCL) is a neurodegenerative disorder found in many breeds of dog. 7 varieties have been identified so far, affecting different breeds. There are DNA tests for each type, to identify whether a breeding dog might be carrying this condition.

Genetic Test

Osteogenesis Imperfecta (OI), also known as 'brittle bone disease', is an inherited disease in both humans and animals, causing bone fragility and fracturing. As it is a genetic disease, breeding parents can be tested to ensure it is not passed onto their puppies.

Genetic Test

Sarcoglycan Deficient Muscular Dystrophy (SDMD) is a genetic disease causing a stiff gait, exercise intolerance and difficulty swallowing in young Miniature Dachshunds. There is now a DNA test available to identify if a breeding dog is carrying this disease.

Physical Test

Many breeds with screw-tails or long backs are prone to congenital spinal abnormalities such as hemivertebrae or disc calcification. These can cause spinal kinks and instability resulting in a high rate of slipped discs and spinal injury. Breeders can conduct xrays to identify if a breeding dog has a high risk of spinal instability. These dogs should not be bred. Some breeders will also xray puppies at 6-8 weeks old to confirm the status of their spine for new owners.
Aashudna Dachshunds (Registered ANKC / Dogs Aust. Breeder) will send their puppies to the following states for their new families:
All states (QLD, NSW, VIC, SA, WA, NT, ACT & TAS)
Aashudna Dachshunds (Registered ANKC / Dogs Aust. Breeder) supports the following options for getting your new puppy home safely.
Meet the breeder in person for puppy pick ups
Domestic air travel by plane
Supportive of domestic air transport by plane
International air travel by plane
Supportive of international air transport by plane
Supportive of on-the-road pet transport by car or van
Badges of Recognition
About the Breeder
A little about us
I am a registered ANKC breeder with Dogs NSW since 2011. I am the Membership Coordinator and my Husband Mark is the Treasurer of the Dachshund Club of NSW. I am very passionate about the breed across all aspects, including health. Not only that, but I love to show my Miniature Dachshunds in conformation (it's like…
Why we got involved in breeding
I was looking for a new challenge, showing and campaigning my dogs has allowed me to meet some wonderful people and create lasting friendships. Breeding dachshunds is secondary to this and not something I do lightheartedly.
Our special touch
I breed chocolate and tan dachshunds. My dachshunds have all the hallmarks of the breed. Dachshunds have been bred to maintain these hallmarks for certain purposes' for 100's of years, and I choose to continue this tradition. That way, any new owner can exactly know and predict the personality type and quality of…
Credentials
State registration
BIR 000678899
Association
Dogs NSW (ANKC)
Association number
2100065525
Dachshund Club of NSW
Newcastle & Merewether Combined Canine Club Inc
Novocastrian Ladies Canine Association