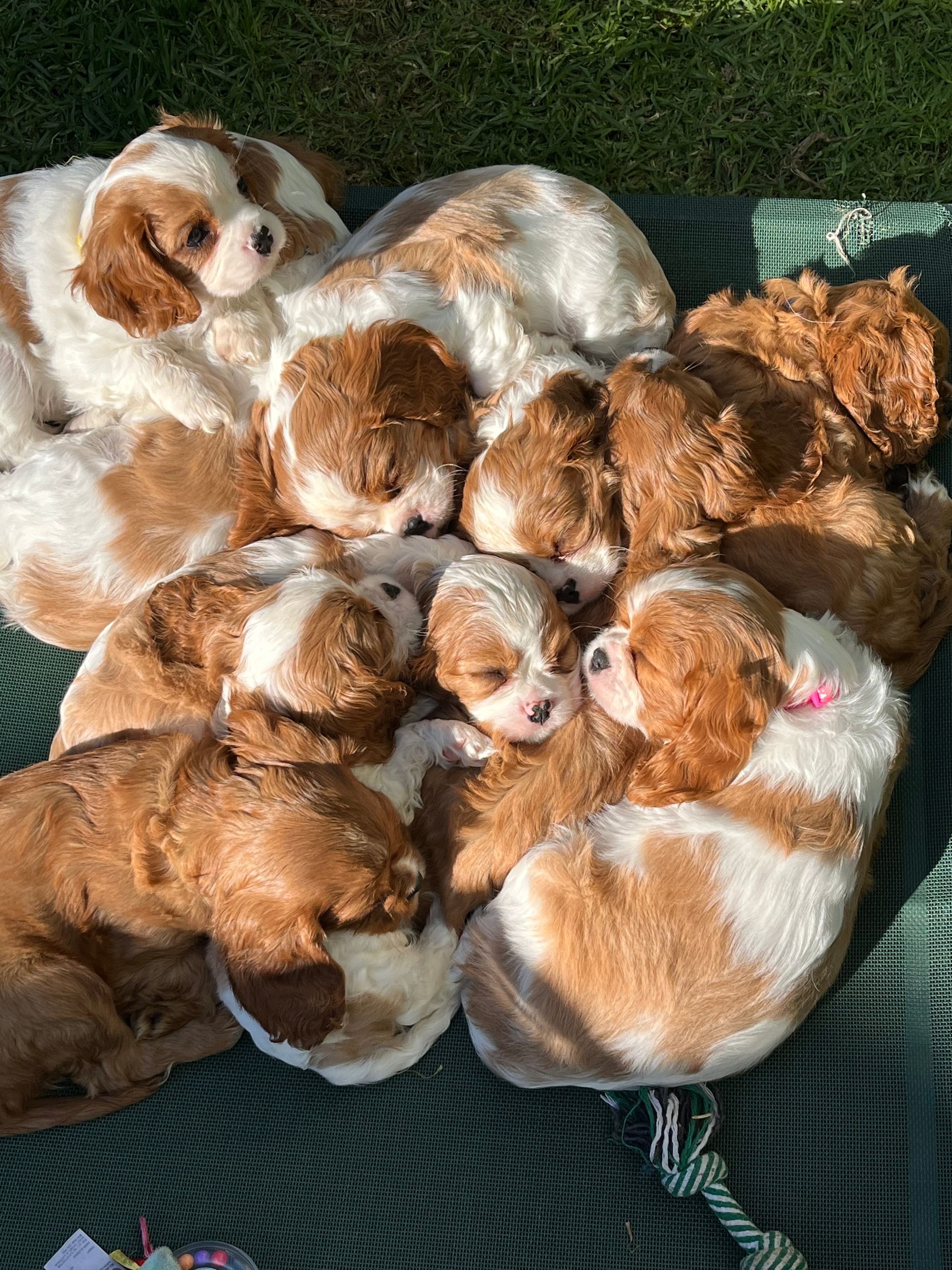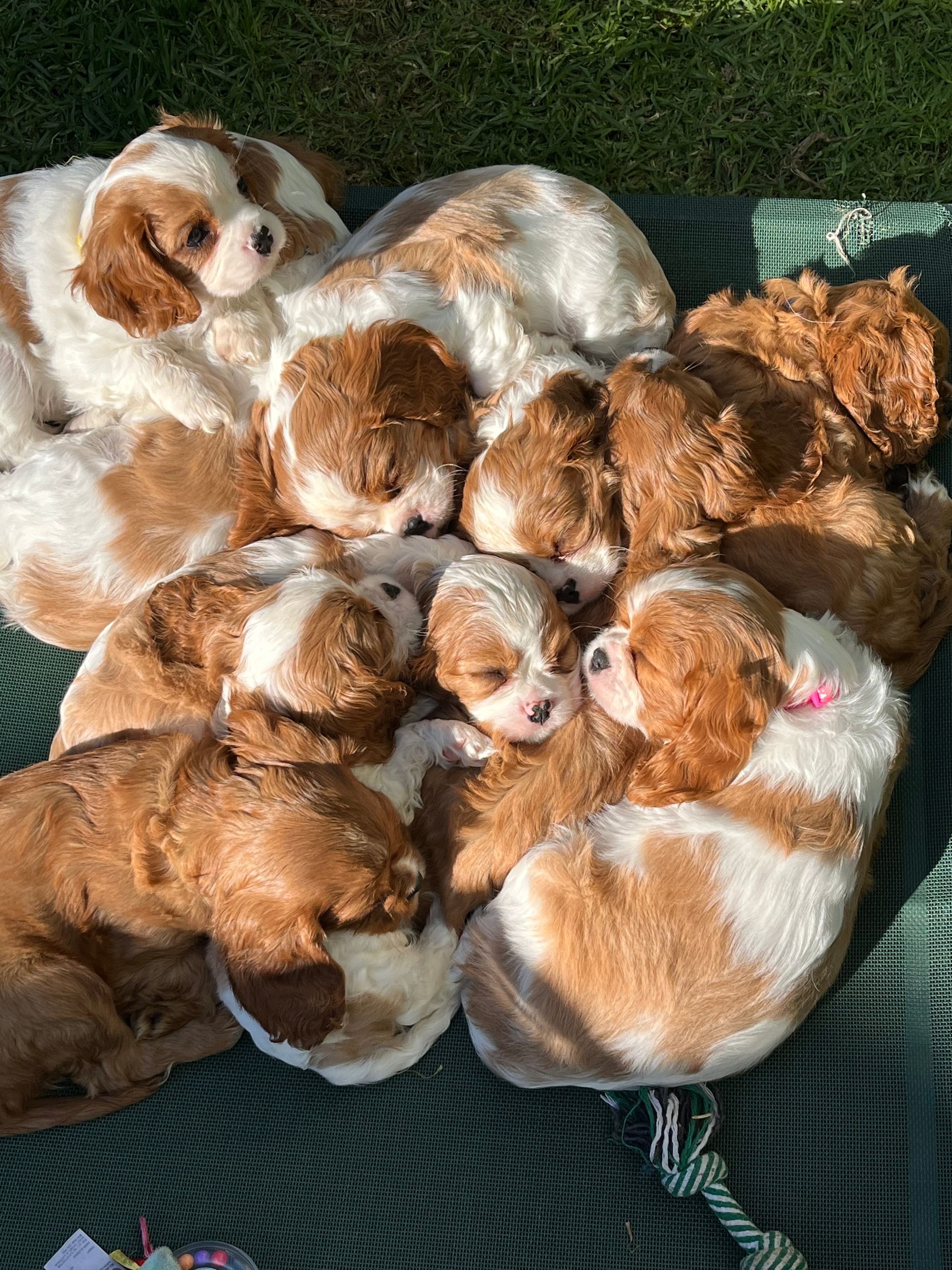 Macedon Ranges, VIC
Hi, I'm Deborah L.
I am a small breeder in the Macedon Ranges, striving to get the best combination of the gene pool to bring healthy, happy puppies
Vet Approved Criteria
Last checked on 27 Jan 23
Every breeder on RightPaw has agreed to our vet-approved RightPaw Code of Ethics, and passed an interview from one of our team.
Newborn & Planned Litters
Pablo x Becky - Nov Litter 2023
Born 7 Nov '23
Ready to leave 2 Jan
Maddie's Litter
Planned Dec '23
Ready around Feb
Ellie's Litter
Planned Dec '23
Ready around Feb
Our Breeding Practices
Behaviour and socialisation
My dogs are well socialised with other dogs, children and adults.
Health
My dogs are regularly vet checked, treatment regimes and intervention regularly monitored and administered.
Home environment
My dogs have a little over an acre to run around and play. They are always occupied and fossicking in the garden and bushes.
Included with our puppies
A puppy pack will be provided including a vet report, recommended feeding, treatments, and a bill of sale to ensure both parties fully understand what to expect.
Health Tests
K9 Cavaliers conducts 1 out of 1 core health tests which RightPaw believe are most important to conduct for the Cavalier King Charles Spaniel.
Heart Certificate
Physical Test
A heart certificate indicates that a breeding dog has been screened for heart disease such as DCM…
K9 Cavaliers conducts 6 additional tests available for the Cavalier King Charles Spaniel.
Genetic Test

A mutation in the ADAMTS3 gene has been associated with airway disease in dogs. The mutation causes airway swelling and fluid build up which can make affected dogs very prone to breathing problems. There is now a DNA test available in some breeds to identify whether a breeding dog has a mutation in their ADAMTS3 gene. Breeders can use this test to inform their breeding program and help minimise the risk of breathing problems in their puppies.

Genetic Test

Congenital Macrothrombocytopenia (CM) is a mild disease which normally does not have any impact on an affected dog's health or lifespan but can cause concern if noticed on routine bloodwork without knowing the cause. It is a blood disease resulting in low numbers of very large platelets. There is a DNA test available to identify if a breeding dog is carrying this condition.

Genetic Test

Curly Coat Dry Eye Syndrome is a genetic cause of eye and skin problems in Cavalier King Charles Spaniel puppies. The disease also caused an unsually tight curly coat texture. There is a DNA test available to identify if breeding Cavaliers are carrying the gene for Curly Coat Dry Eye Syndrome.

Genetic Test

This is a disease affecting the spinal cord of older dogs, initially causing wobbliness and eventually hindlimb paralysis. It can affect a wide range of breeds. There is now a DNA test that can indicated if a breeding dog is carrying this disease.

Genetic Test

This is a genetic neurological condition affecting Cavalier King Charles Spaniels. It causes sudden stiffening of the legs, often causing the dog to fall over and be unable to move. There is a DNA test available to indicate if a breeding dog is carrying this disease. The test is also recommended in Cavoodles.

Physical Test

An eye certificate means the breeder has had their breeding dogs examined by a veterinary ophthalmologist, to confirm they are not affected by any eye conditions which may be passed down genetically to their puppies. If relevant for the breed, it also includes running DNA tests to confirm the dog is not a genetic carrier of hereditary eye diseases, such as Progressive Retinal Atrophy (PRA). It includes breeders who have participated in the Australian Canine Eye Scheme (ACES).
K9 Cavaliers will send their puppies to the following states for their new families:
All states (QLD, NSW, VIC, SA, WA, NT, ACT & TAS)
K9 Cavaliers supports the following options for getting your new puppy home safely.
Meet the breeder in person for puppy pick ups
Domestic air travel by plane
Supportive of domestic air transport by plane
Supportive of on-the-road pet transport by car or van
Badges of Recognition
About the Breeder
A little about us
I am a small family breeder. My pets have the run of an acre, they find lots to do to keep themselves occupied. They are natural hunters, and our region provides plenty of things to fossick for. They are all very healthy, regular vet checks, go on regular walks, get to socialize regularly. They love to be with you,…
Why we got involved in breeding
How could you not? This beautiful breed melts your heart ❤️
Credentials
State registration
RB216832